I've just listed this unique item on Art By Us. It's a real ostrich egg on which I've drawn a graceful flamingo in pen & ink. I'll donate 50% of the final sale price to Wildlife Direct.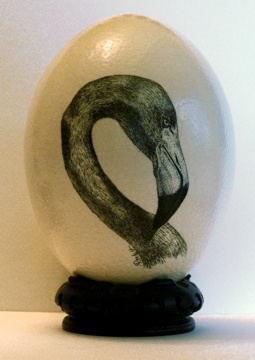 Click on the image to view the auction.
I've been drawing critters on ostrich eggs for many, many years. It all started when I worked at the
Sacramento Zoo
. Although it's been a long time since I worked there, I'm fortunate to continue to receive at least 10 egg commissions from the Zoo each year. They give the eggs to special donors and as prizes for events (such as their annual Zoo Zoom run).
I rarely have any illustrated eggs available for sale, since most of them are created for the Zoo or are commissioned by individuals. Now's your chance to own a really special and unique piece of art, and help the gorillas at the same time!
-Ann Ranlett (drawdog5)